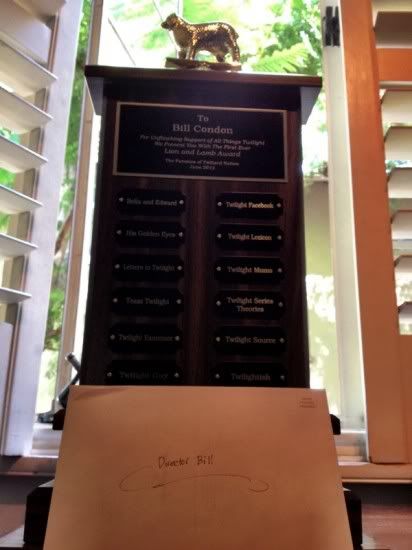 After the first part here now you can read the second part of Bill Condon question and answers with fansites.
Becca: So Stephenie takes a huge chunk of this book and puts it in Jacob's perspective.
Bill: Well, the last film, not this one so much.
Becca: It is part one, ok.
Bill: That was interesting in that, to go inside the wolves and everything, but here, it's Bella. It's all Bella.
Kallie: One of the scenes we saw, no it was one of the stills that we saw, of it looked like it could be Renesmee communicating, The first thing that hit on twitter was 'What do you guys think is going to happen, is it going to be like the wolves? Is it going to be different?' Have you even, I am sure that you have approached it, but is that clear in your head how you want it to be seen?
Bill: Yeah, and it's not like the wolves. [Bill wipes forehead in relief and all laugh]
Kallie: I wasn't even sure I would get that, so I am happy. Awesome.
Bill: It's definitely own thing. You know that's what's fun, cause we do have, now you have this whole different power and this whole different way of communicating. And that means we get to play with a whole different visual approach.
Nikki: How tuned into the fans and people's critiques are you? I mean it seems with a series that is so popular, it would be film making by democracy maybe?
Bill: A little bit. I think that's very true. I think we are right from the script stage what are favorite things, what you feel comfortable with, visualizing in a different way, and then obviously I read everything written, every good and awful thing. So very, very tuned into that.
Laura: Picking up with what Nikki said, our fandom, and there are definitely some fan favorite scenes that we can see have ended up in the movie, by just stills or you know, looking at the trailer, are the two that I can think of right off the top of my head. With the arm wrestling thing, I can't tell you how many people are thrilled about the arm wrestling. I mean I don't think I have ever gotten so many RT's off of arm wrestling in my life. That and just the inclusion of Garrett, and sort of that character and his speech and what he does, so I guess what's, and you know there's other fan favorites that got cut from the first one, like the dog bowl thing. Is hard for you to decide what stays and what gets cut? Or humor sometimes, is it easier to put humor in this one then it was the last one?
Bill: I think so. I think that's true. I think the dog bowl is a good example of that. We're trying to fit that in to the long version, you know, the one movie. It a whole different, I thought in that case, it was important to stay with Bella. Again, it was all like, but now we're trying to find room for it in kind of, a different pace film. But here, I got to say, let me think, there are one or two things that we shot like that that didn't make it in the film. Not as much as in the first one. I hope they won't miss too much.
Kallie: What were your favorite and least favorite scenes to shoot and film.
Bill: Oh I always thought it was a challenge, and I was curious how other directors dealt with it. When you are shooting the Cullens, they don't drink coffee or tea, they don't smoke, they don't sit, they don't walk. So you know it's like, you've got… that turned out to be nothing compared to putting 27 vampires in a room. So even though, there's that. Twenty-seven statues having a big emotional scene, was a challenge. I love the scene, but that was a nightmare.
Kallie: But good, was there anything really great in the one that you went back .
Bill: Oh yeah, so much of it. I have to say the whole…I think having Michael Sheen play such a crowning role in this is such an exciting thing. Way beyond what he's done in other ones, you know. He really is, as you know, on the field, he's a dominant presence in the film leading up to that. It just brought a different energy to the whole thing. It was great.
Read the full interview on the source.
Source: Lexicon